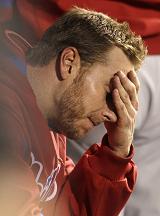 Eli Whiteside hit a home run off Roy Halladay in the seventh inning of last night's Giants-Phillies game.  According to Matt Gelb of the Philly Inquirer, that caused some Giants fans to chant "overrated!" at Halladay. I suppose if anyone can talk smack to Roy Halladay it's the fans who root for Tim Lincecum, but calling Roy Halladay overrated is crazy.
Fan weirdness in Kansas City too as Royals fans booed Mike Sweeney when he pinch hit for Seattle last night.  Sweeney was the Royals' best hitter for a good while and I understand that Royals fans are a bit miffed that he got a big contract and fell off a cliff at almost the exact time the team decided that Carlos Beltran wasn't worth trying to keep around, but that's on an inept Royals front office, not Sweeney. Sure, it's hard to boo a front office seven years after they did something dumb, but booing a nice guy like Mike Sweeney is a decidedly un-Midwestern thing to do.  Midwesterns are much bigger on passive-aggressiveness than open hostility. There's a thin veneer of politeness to it which makes us think we're better than everyone else.  
And since I've taken it upon myself to tell fans all over the country who they can and can't jeer, I may as well go one presumptuous step further and tell them exactly how they should receive players like Halladay and Sweeney.
In San Francisco, the fans should, after getting the best of a guy like Roy Halladay, offer wild applause for their own guys, and a zipped lip (though exuberant inner-joy) at the misfortune of Halladay, knowing full well that (a) you got the best of one of the best; but (b) it ain't likely to happen the next time your guys meet up with him.
For Sweeney? Tougher, because that business with the $55 million bust of a deal is really old news.  Maybe Royals fans should get creative and, rather than boo him, they could all meet outside the stadium after the game, pool their resources, figure out where former General Manager Allaard Baird lives and leave a flaming bag of dog poo on his porch.
Much more constructive if you ask me, and really, a lot more satisfying.