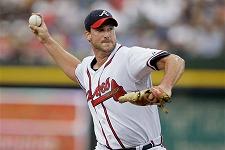 Pfun pfactoid from MLB.com this morning: April 27th is tied for the title of most no-hittinest day of the baseball season, with six no-nos having occurred on this date in history.  What's more, two of the 4/27 no hitters were tossed by guys getting starts today: Derek Lowe in 2002 and Kevin Millwood in 2003.
I'm gonna go out on a limb here and guess that Lowe will not be repeating his feat. This prediction is based on complex logarithms, probability analysis and a touch of quantum mechanics so it's kind of hard to fully explain, but let me try to give a rough approximation in layman's terms: Back when Derek Lowe threw his first no hitter he did not suck, and today he does.
Sorry to hit you with the science, but sometimes we have to do that around here.