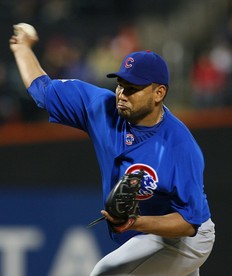 The Cubs did need some help setting up for Carlos Marmol, but the biggest reason Carlos Zambrano is in the bullpen right now is Carlos Silva's exceptional start. He's followed a rather strong spring by going 2-0 with a 1.73 ERA through four outings. This from a pitcher who went 5-18 with a 6.81 ERA for the Mariners the last two years.
Silva, though, does have some history of success. Former Seattle GM Bill Bavasi was mad to give him a four-year, $48 million contract, but in his four previous years as a full-time starter, Silva was very good once (3.44 ERA in 2005), a little above average twice and only a bust in 2006, when he finished with a 5.94 ERA.
However, Silva was an oddity even then. To hear the descriptions, he was an extreme groundball pitcher. However, his groundball rate was never in Brandon Webb-Derek Lowe territory. He was merely above average when it came to keeping the ball out of the air. His strikeout rate was always among the lowest of any starter in the league, and he gave up a fair number of homers. The biggest thing he had going for him was his exceptional walk rate. In 2005, he gave up just seven unintentional walks in 27 starts. A strong outfield defense led by Torii Hunter also helped a bunch.
Because he relies so much on his defense, Silva has always lived on the edge. And the 2008 Mariners were a pretty poor defensive club. The 2009 version was far better, but Silva was hurt and never had a chance to take advantage.
That's part of what makes this sudden turnaround so baffling. Seattle should have been the ideal setting for Silva to turn around his career. The Mariners currently have an exceptional defense with the game's best center fielder in Franklin Gutierrez and three more standouts in Jack Wilson, Ichiro Suzuki and Casey Kotchman. Plus, Safeco Field is a pretty tough place for power hitters. The Cubs play in The Friendly Confines and have just one player who has ever sniffed a Gold Glove: first baseman Derrek Lee.
So, let's look at the reasons Silva might be succeeding as a Cub:
1. He has his sinker producing grounders like never before
Nope. Not even close. In fact, Silva is getting grounders just 41 percent of the time this year, which would be the lowest rate of his career.
2. Well, if he's not getting grounders with his fastball, maybe he's throwing it by batters
Silva's velocity has continued to drop, so that hardly seems to be the case. Silva averaged 92.1 mph with his sinker in his career year in 2005, but it's declined steadily since. He's sitting at 89.4 mph this year.
FanGraphs' numbers also indicate that Silva's sinker has been less effective at inducing outs than usual.
3. He learned a new pitch over the winter
It sure looks like Silva is throwing the same three pitches he always has. However, it's possible he legitimately improved his changeup. FanGraphs data says the pitch has been remarkably effective for him so far, and he's throwing it more than ever. In fact, his success with the changeup, if you believe the numbers, is far and away the biggest difference between this year's Silva and the usual Silva.
4. Improved command
There's probably some truth to that. Silva has walked just three in 26 innings to date, even though he's throwing more offspeed pitches than usual. That's impressive.
5. Luck
And probably a whole lot of it.
Silva typically gives up homers on 11 percent of his flyballs. This year, he's allowed just one homer in 26 innings or on three percent of his flyballs.
Silva's career batting average on balls in play against is .314. His career-best mark is .289 from 2005. This year, he's at .215.
According to FanGraphs data, Silva's changeup has been the second most valuable pitch in baseball thus far, behind only Doug Fister's fastball.
So, yeah, I'd chalk a lot of it up to luck. Maybe Silva's changeup will hold up better than Fister's fastball, but it's far from the best in baseball. If Silva can keep his walk rate down, then the possibility exists that he'll be a solid fourth starter all year long. However, he's a 4.50 ERA guy in disguise right now.