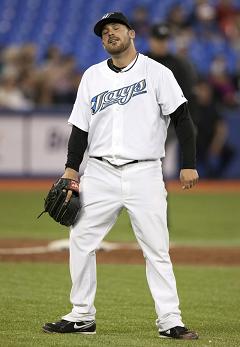 Red Sox 13, Blue Jays 12: Just your standard 25 run, 34 hit, 4+ hour nine inning game. Lyle Overbay, Jose Bautista and Jason Varitek each had 4 RBI, Bill Hall, Jeremy Herminda and Travis Snider all had 0-fers, and the starting pitchers — Josh Beckett and Dana Eveland — were each tied up and were placed, sitting backwards, on the backs of donkeys while wearing giant carnival masks and then led out into some forbidding desert to die.
Brewers 17, Pirates 3: The Milwaukee Brewers! What a rotten name! We were trapped. There they stood,
between us and the alley. The Milwaukee Brewers staring out at us with their yellow
eyes. They had yellow eyes! So, help me, God! Yellow eyes!
Royals 3, Mariners 1:  Kyle Davies beats Felix Hernandez? OK, that's unexpected, but weird things happen from time to time. Yuniesky Betancourt goes 2-4 and is now hitting close to .350 on the year? Well, that is a little peculiar. Bruce Chen gets a save? Screw it, I'm maxing out my credit cards and pulling the kids out of school, because the end is friggin' nigh.
Marlins 10, Padres 1: Josh Johnson pitched a complete game, striking out 12 and giving up a lone earned run and he went 3-4 driving in three.  A guy who can do that on a regular basis is worth $25 million a year. Ryan Howard? Not so much.
Tigers 8, Rangers 6: Neftali Feliz gives up back-to-back homers to Miguel Cabrera and Brandon Inge in the ninth to lose the game. I hate to see Feliz struggle, but any little thing that may push him out of Certified Closer land and back into being a starting pitcher is fine by me.
Cubs 4, Nationals 3: The Nats battled back from 3-0 to send the game to extras, and then Brian Bruney comes in and allows a single, a walk, a single and a walk to end it. His former team, the World Champion New York Yankees, were in Washington yesterday meeting President Obama. There's a reason he did not accompany them.
Cardinals 4, Braves 3: "Commonly, people believe that defeat is characterized by a general bustle and a feverish rush. Bustle and rush are the signs of victory, not of defeat. Victory is a thing of action. It is a house in the act of being built. Every participant in victory sweats and puffs, carrying the stones for the building of the house. But defeat is a thing of weariness, of incoherence, of boredom. And above all of futility" — Antoine de Saint-Exupery, noted observer of the Atlanta Braves.
Diamondbacks 5, Rockies 3: Dan Haren was on: 8 IP, 5 H, 2 ER, 10K. Adam LaRoche's three-run homer in the first was a the big blast.
Giants 5, Phillies 1: Yes, of course it makes perfect sense that the Giants would score the most runs they had in a over week — 5 — on the night they face Roy Halladay. Wait, it actually does. Before last night Halladay had faced the Giants twice in his career and on each occasion they had scored . . . five runs.
Angels 5, Indians 2: The first several paragraphs of the game story are spent here comparing Jered Weaver to Jeff Weaver. Am I the only one who finds this odd? Hideki Matsui had his 1000th major league hit last night. I saw his performance. I would like to have a player like him in my lineup.
 
Mets vs. Dodgers: Postponed:  Remember that "Happy Days" episode where the Fonz performed in "The Rainmaker?" What the hell was up with that?