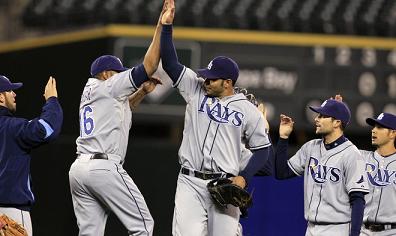 1. Rays:  Ho-hum, another two of three in each of their series last week. It's exactly that kind of tick-tock boredom that is the stuff of division titles.
2. Yankees:  If one bum starting pitcher is your biggest problem, you're doing pretty well.
3. Twins: Beating up on the Indians and the Royals may not be all that impressive, but it's not like the Twins made the schedule. They're winning the games they're supposed to be winning and are continuing to look strong. Their next several games are against the Tigers, Indians and Orioles, so it's only getting moderately harder as the month wears on.
4. Phillies: Dropping two of three to the Dbacks are one of those things that make you go hmmm, but after dismantling the Braves in the final two games of that series and then hopping a cross-country flight before Friday's game, we'll give them the benefit of the doubt.  Now it's three against the Giants. Anyone think Roy Halladay is going to have any problems against that offense tonight? Nah, me neither. The bigger question is whether the rest of the rotation can get anyone out who isn't wearing a Braves uniform.
5. Cardinals: Three runs scored in their last three games. I'm tempted to say "Forget it Jake, it's China Basin."
6. Athletics: So far so good for an A's team that is exceeding expectations, but one wonders if all the nagging injuries are going to catch up soon. You can't get rich, after all, betting on things like "Eric Chavez is going to carry the offense."
7. Padres: I still refuse to believe that they're anywhere near as good as their record, but what happens on the field matters more than my beliefs.
8. Giants: Two out of three from the Cardinals is spiffy, but the return of the 2009 offense is not: 11 runs scored in their last seven games.
9. Angels: Series wins against Detroit and New York show that, slowly but surely, the Halos are righting the ship.
10. Tigers: The biggest question in Detroit: what's wrong with Rick Porcello?

11. Rockies: Movin' time: the Rockies being a stretch of 12
straight against the NL West.
12. Marlins: A nine-game
homestand awaits. Literally dozens of people will now get to see what
this team is made of.
13. Blue Jays: The concerns for this
team at this moment in time are more existential in nature than they
are competitive. Like, can they survive in Toronto. Interesting
article. I'd be more sympathetic if the article wasn't framed with
the plight of how hard it is to be a ticket scalper, because ticket
scalpers are a nothing but wretched hive of scum and villainy.
14.
Nationals: As
Chris Needham notes, you can squint a little bit at this team and
see a legitimately respectable bunch. It could all go sideways tomorrow,
but as I sit here right now I have no basis for saying that they're
worse than any number of other teams.
15. White Sox: Columnist
writes obituary, team sweeps weekend series. They need a few more
wins to start playing the "no one believes in us" card with gusto, but
it's a start.
16. Mets: I can't decide if they've really
turned the corner or if they just had the good fortune to play the Cubs
and Braves at their absolute worst. Let's give them the benefit of the
doubt, though. They've gotten good starting pitching, Ike Davis has
given the fans something positive to talk about and the lineup shuffle
is working out. 
17. Cubs: It'll take more than three
days of good baseball for me to give the "buy" recommendation on these
guys, but it was three days of good baseball. I missed Saturday's game,
so I'm still waiting to see Zambrano come out of the pen.
18.
Rangers: Adam
Morris at Lone Star Ball pretty much sums up the feelings of fans
for every team not at the very top or the very bottom of this list when
he says "[w]hat is particularly annoying about being two games under
.500 is that
you can sit here and say, if we had just won this game, or this one,
we'd be at .500.  Just one loss that could have been a win.  And .500
feels a whole lot different than 2 games under."  Ah, April.
19.
Red Sox: Two of three from Texas, two of three from Baltimore, more
chances per-week to see a knuckleballer pitch . . . baby steps.
20.
Mariners: Cliff comes back this week. All other comments about this
team are on hold until we see how it goes.
21. Brewers:
Trevor Hoffman pitched in a game with a 20-run lead last week. He also
pitched in a game while behind by 10. Let's hear it for the Brewers for
confounding our tired old expectations about how to use a bullpen.
22.
Diamondbacks: An 11 game road trip starts tonight. Why so long? Is
there a convention in town or something?
23. Braves:  The
only silver lining to their atrocious week is that, given how poorly
everyone is hitting the ball, the chance that hitting coach Terry
Pendleton will be given the manager's job after the season is much, much
lower than it had been before. 
24. Dodgers: Dropping
series to the Reds and the Nats is not something a contender does, and
as I see this team right now, they're not a contender.
25.
Astros: Lance Berkman coming back made this team look a lot more
respectable.
26. Royals: I rip Dayton Moore a lot, but
this quote after the Royals cut Juan Cruz the other day actually made me
have sympathy for the guy: "We looked real smart and real aggressive
when we signed Juan Cruz. Now we look real stupid for signing
Juan Cruz." Sometimes it just seems that everything turns to poop in
Kansas City.
27. Reds:
Lost in the talk of when Aroldis Chapman may come up is whose place he'd
take in the rotation. Homer Bailey is out of options and can't be sent
down and Johnny Cueto and Mike Leake have actually pitched well. Do you
pull a Zambrano with Aaron Harang and make him a reliever?
28.
Indians: They won some games and lost some games last week, but all
were lopsided affairs. The Pirates did that too, just before going into
the tank.
29. Orioles: It's around 1PM on Monday as I
write this and, contrary to my prediction, Dave Trembley hasn't been
fired yet. Does one win against the Red Sox really count for that much?
30.
Pirates:  One of the ugliest weeks of baseball I've seen from a
team in a long, long time.