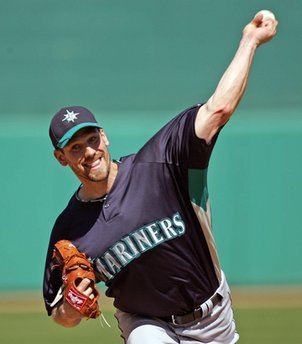 Cliff Lee was dominant in his rehab start on Sunday for Triple-A Tacoma, tossing six shutout innings against Salt Lake.
The former AL Cy Young winner threw only 68 pitches, allowing three hits and no walks while striking out four. Two of the hits were a bunt single and a fly ball that the center fielder lost in the sun, so Lee clearly has healed nicely from his abdominal injury and is ready to go.
He's scheduled to make his debut for the Seattle Mariners on Friday against the Rangers at Safeco Field, and as I speculated last week, he'll take Ian Snell's spot in the rotation.
This is good news for the Mariners, who will finally get a look at the guy they envisioned as Ace No. 1A — along with Felix Hernandez – when they acquired him from the Phillies in the offseason. The problem is what the Mariners really need is for Cliff Lee to morph into Adrian Gonzalez, as pitching hasn't been their problem.
Even without Lee, the Mariners have the third best team ERA in the AL (3.41). They're also fourth in walks allowed, sixth in homers allowed, sixth in on-base average against, and with that stellar defense behind them, they're second in double-plays turned. Back-end starters Jason Vargas (2-1, 3.60 ERA) and Doug Fister (2-1, 1.67) have been more than adequate in the rotation.
Unfortunately, their offense is holding them back, as they are 12th in runs scored, 13th in slugging percentage, and last in home runs. As a team, Seattle has left the yard only eight times, while the Blue Jays lead the AL with 26 dingers.
If only Lee could hit.
FIVE SERIES TO WATCH
Dodgers at Mets, April 26-28: Two big-market, high-hype teams that are looking pretty mediocre so far. This will be entertaining for the hand-wringing on both sides alone.
Padres at Marlins, April 26-28: Last week I wondered if the Marlins were for real, then they went out and played as if they had read my post and actually believed it. (Sorry, Fish fans) This week I was tempted (very briefly) to ask the same question of the Padres, who had won eight straight before losing on Sunday. Instead, let's just watch these two slug it out, then wonder which thrifty team will end up with the best wins-per-dollar ratio.
Twins at Tigers, April 27-29: I'm not going to call this a battle between the best in the AL Central, even though the standings say so. First, it's too early to write off the White Sox. Second, the Twins are clearly the class of the division, with everyone else a distant second. Still, this series is definitely worth checking out, especially for the Liriano-Verlander matchup on Tuesday.
Mets at Phillies, April 30-May 2: This was a nice little rivalry before the Mets fell on hard times last season. Heck, even Jimmy Rollins hasn't done much to stir the pot. Even before his injury, the best he could do was to say Roy Halladay was better than Johan Santana. Still, we've got until Friday for someone to spout off. Keep your fingers crossed.
Rockies at Giants, April 30-May 2: I'm not including this game just to prove we don't have an East Coast bias here at HBT, but because this should be an honest-to-goodness entertaining series. The Giants have found some offense to go with their pitching, and the Rockies have as much talent as any team in the division. 
ON THE TUBE
Monday, 7:10 p.m. ET: Dodgers at Mets (ESPN)
Wednesday, 7:05 p.m. Twins at Tigers (ESPN)
*Saturday, 3:10 p.m., Rangers at Mariners (FOX)
*Saturday, 3:10 p.m., Mets at Phillies (FOX)
*Saturday, 3:10 p.m., Astros at Braves (FOX)
Sunday, 1:05 p.m., White Sox at Yankees (TBS)
Sunday, 8:05 p.m., Mets at Phillies (ESPN)
*Check local listings
And for those of you who have asked for a schedule of MLB Network games, you may find that here.
Are you on Twitter? You can follow Bob here, and get all your HBT updates here.