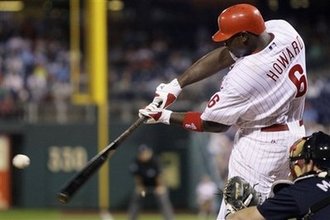 Anytime something big like the Ryan Howard extension goes down the repercussions can be felt all throughout the Greater Baseballosphere.  The extension was announced scarcely an hour ago, but it's probably worth tallying up the winners and losers of the deal:
Winners
Ryan Howard: Now that he has his extension, he will no longer have to make the crucial "should I go to law school or not" decision in 2012.
Casey Close, Howard's agent: Given that it's highly, highly unlikely that the Phillies came to Howard first on this — why would they? — Close has now been shown to have some serious moxie. If he went on the lecture circuit with a seminar about how to ask for and get crazy things salesmen and dateless men the world over would empty their wallets to hear it.
Albert Pujols: His asking price just went up to, what, $30 million?
Prince Fielder: His asking price just went up to, what, $27 million? He's a lot younger than Howard, by the way.
Adrian Gonzalez: Ditto.
Subway: Their spokesman just got more famous.
The Mets, Braves, Nationals and Marlins: It's one thing when the Yankees overspend. They can absorb it. There are consequences for every other team, however. Ask yourself: When Ryan Howard is struggling to be an average first baseman for $25 million a year — and when that $10 million buyout is looming! — how are the Phillies going to be able to afford the stout left field bat they'll need to replace Raul Ibanez and make up for Howard's offense? Multiply that problem across every position except second base — and even Chase Utley is going to decline eventually — and it's easy to imagine the Phillies having a serious cash crunch in the next few years.  
Losers
The Cardinals, Brewers and whoever trades for Adrian Gonzalez: What possible leverage do John Mozeliak, Doug Melvin and, I dunno, Theo Epstein have now when they sit down with Pujols, Fielder and Gonzalez?
Everyone owner in baseball not named Bill Giles: The A-Rod contract was a major problem for the owners when the Collective Bargaining Agreement was being negotiated in 2002. After all, if a team could afford to pay a player $25 million year less than eighteen months previously, how could the owners' claims that baseball was broke and the union needed to make concessions hold any water?  This time around — after the 2011 season — the negotiations aren't supposed to be nearly so contentious. But money is always an issue and the owners always have an incentive to cry at least a little poor.  It's one thing to give giant money to a young face-of-the-franchise guy like Joe Mauer, but this kind of money to maybe the third or fourth best first baseman in baseball? Eeek.  No matter what you think of it, the contract certainly undercuts any claims by the Phillies, and maybe by baseball as a whole, that it has any financial problems.
Phillies fans after 2012:  Look, I know you love Ryan Howard and I know you'd cry big tears if he were to leave when his previous deal expired. But Howard's contract is going to be an albatross before it's halfway over. And no one will trade for him, even if he did waive the no-trade clause, because such a beast is superfluous at $25 million a year.  Much harder than watching your big slugger leave town? Watching your big slugger leave town three years too late.
Am I leaving anyone out?