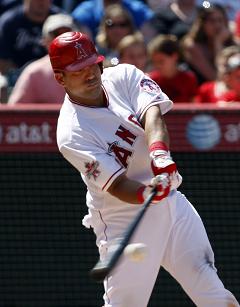 A curious thing happened in Anaheim yesterday, as Joe Girardi decided to
have Damaso Marte pitch to Kendry Morales in the bottom of the seventh
with two on and two out, the Bombers down by one.  Fair enough. I hate
intentional walks anyway, but especially hate them when first base isn't
open or when the pitcher isn't coming up to bat. And especially when
you have a favorable matchup such as a lefty facing Kendry Morales. Good
job going after it, Joe!
Except in this case there was only one
problem: Girardi's decision to pitch to Morales came after he had first
decided to walk the guy, with Marte already having delivered intentional
ball one.  Really, Girardi just changed his mind mid-walk and said
"forget it." The outcome of the at bat: Kendry Morales homered, Angels
took an 8-4 lead which would hold up.
That this was a poor
decision was clear even before the homer, as Marte — now actually
trying to get Morales out — threw two additional balls, running the
count to 3-0.  Take
it away Joe Girardi:
"He got to 3-0 and I could
have put four (fingers) up again," Girardi
said. "I probably should have put four there."*
But
he didn't, Morales had the green light and he deposited a fat 89 m.p.h.
fastball over the wall.  The Angels already had the lead, but at that
point the game was over.
To Girardi's credit he totally owned the
decision after the game, but that doesn't make things any better. 
Pitching to Morales may or may not have been a good idea in an absolute
sense, but once the decision was made to walk him, you have to stick
with it. Ask yourself: ever have some work taken off your plate at the
office, only to have the boss come back a few minutes later and say
"Know what? I'm going to need you to do that anyway." It's deflating. It
would have been better if the guy had never told you that you didn't
have to do it in the first place.
Damaso Marte probably felt that
way too, having cleared his mind, however temporarily, of his plan of
attack for Kendry Morales. Then Giradi plopped that file back on his
desk.
*I know managers have been calling for intentional walks
forever, but the whole notion of the manager calling each individual
pitch in an at bat grinds my gears. While the outcome could have been
better if Girardi had put the free pass back on when it was 3-0, I
almost would have been more angry if he had, at least on a philosophical
level. Make up your mind and let your pitcher and catcher get the job
done.  If an idiot like Terry Bradshaw was able to call his own plays,
certainly Frankie Cervelli can call a pitch or two, can't he?