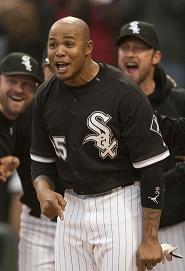 The White Sox' Andruw Jones has gotten off to a fantastic start: .292/.404/.708 with six home runs, including the walkoff job on Friday night.  Is the guy who once wowed us with his defense back to being a productive player after years in the wilderness?
Not so fast says FanGraph's R.J. Anderson, who notes that his quick start is most likely a function of some luck on balls in play and a home run friendly park. His last line tells you all you need to know about how Anderson feels about Jones: "He's just an aging slugger using his bat to prop the casket lid open." Ouch.
While I want to be optimistic about Jones because (a) I vividly remember when he didn't suck; and (b) he actually got into pretty good shape this winter, and maybe that will make a lasting difference, we're clearly into "I'll believe it when I see it" territory with the guy.  After all, he started out even hotter for the Rangers last April: .344/.523/.781. The rest of the year? Miserable. A blip of eight homers in July gave him a slugging-heavy .934 OPS that month, but otherwise he was terrible.
So many people wanted to believe that he was back in 2009. I imagine a lot of people want to believe the same thing this year. Until he puts up another month or two of good performance, however, we shouldn't be buyin' what he's sellin'.