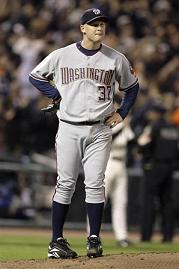 Remember Mike Bacsik? He was the guy who served up home run number 756 to Barry Bonds back in 2007. Back in January he was accused by former teammate Tim Redding of grooving the pitch to Bonds, which caused a minor dustup. Bacsik came out of that looking OK, though, because it turns out that Redding has often been a jerk to teammates and, hey, Bacsik is just some ex-pitcher trying to make a living on the radio.
Turns out that Bacsik is the bigger jerk, however, as yesterday he tweeted the following after the San Antonio Spurs beat the Dallas Mavericks: "Congrats to all the dirty Mexicans in San Antonio."  The tweet was almost immediately deleted, but nothing ever dies on the Internet.
A lot of people thought Bacsik served up the homer to Bonds in an effort to make a little living for himself out on the memorabilia circuit. I'm going to go out on a limb here and say that he's not going to be invited to sign "Mike Bacsik #756" on worthless baseball cards anytime soon.