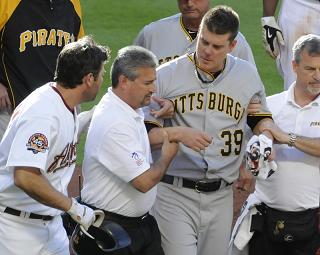 Here's some good news: Pirates pitcher Chris Jakubauskas was released from from the hospital yesterday and was able to fly with his team from Houston to Milwaukee.  He's on the 15-day disabled list, however, diagnosed with a concussion and head contusion.
In case you missed it, Jakubauskas was nailed in the side of the head with a line drive off the bat of Lance Berkman during Saturday's Pirates-Astros game. To me the scariest part is that it hit behind his ear. You don't want to take a ball to the skull, but at least your skull is there to provide some protection. A line shot off someone's bat can cause serious damage no matter where it hits, as was evidenced by the death of Mike Coolbaugh, who was hit in the neck behind and below the ear, causing a
ruptured artery that proved fatal.
There's not much you can do about such things. After Coolbaugh died baseball put all of its base coaches in helmets, but that's silly given that a helmet wouldn't have likely saved Coolbaugh given where the ball hit. A helmet maybe could have helped Jakubauskas, but given the precise bodily mechanics in involved in pitching there is no way anyone would support putting them on pitchers.  And to be sure, batters suffer concussions after being hit on the helmet fairly frequently, so it's not like such a thing would be a cure-all.
No, we just need to realize that throwing a ball close to 100 miles per hour is a dangerous activity, that standing in front of a guy hitting it almost as hard back at you is dangerous as well, and thank our lucky stars that we don't see serious injuries as a result far more often than we do.