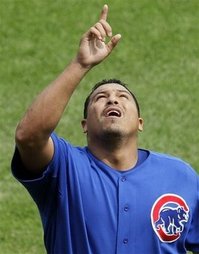 Carlos Zambrano told Bruce Levine of ESPNChicago.com that Cubs manager Lou Piniella promised him that his move to the bullpen will only be temporary as general manager Jim Hendry searches for a set-up man.

"Yeah, that's what [Cubs manager] Lou [Piniella] said, that's what we
agreed [upon]," Zambrano said. "They are looking for a setup man. That's
what they told me. I don't think I'll be here [in the bullpen] too long
in this role. But I will be there when they need me."
Hendry, on the other hand, doesn't seem to have a sense of urgency to change course.
"I never predict whether or not we're going to acquire anybody or not,"
Hendry said. "I don't have a time frame. This is just the best decision
for the club. A month from now we might have an injury or someone might
slip up, things can change."
Though they haven't been linked in talks yet, one possibility for the bullpen is right-hander Juan Cruz, who was inexplicably released by the Royals last week. Cruz was pretty awful last season, but remember that he still touches the mid 90s on his fastball and is just two years removed from a 2.61 ERA with the Diamondbacks.
Big Z made his debut out of the bullpen on Saturday, allowing one run
over 1 1/3 innings. After resting on Sunday, Piniella said the $17 million reliever is available for Monday night's game
against the Nationals.