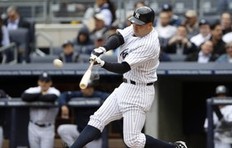 Yankees DH Nick Johnson has missed two games in a row and is likely out until Tuesday due to lingering back stiffness, according to Chad Jennings of The Journal News.
Johnson isn't concerned that it will be a long-term issue, for what it's worth.  But he has been plagued by injuries for most of his career and any kind of ailment is rightfully going to be met with a speculative eye. 
The 31-year-old Johnson is batting just .135 in 52 at-bats this season, but he has drawn 18 walks in 16 games for a .375 on-base percentage.  And that's exactly why he bats in the two-hole for the Yanks, ahead of perennial All-Stars like Alex Rodriguez, Mark Teixeira and Robinson Cano.   New York is off to a 12-5 start this year, right behind the Tampa Bay Rays in the American League East standings.