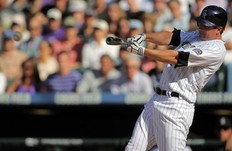 The Rockies placed Brad Hawpe on the 15-day disabled list Sunday, a little under 24 hours after he left a Saturday afternoon doubleheader game with discomfort in his left quadriceps.  The injury was later revealed to be a strain and he's likely to miss around three weeks.
Hawpe, 30, was off to a superb start this season with a .357/.460/.714 batting line and three home runs in 42 at-bats.  His disabling is undoubtedly a big blow to the Rockies, but they do have the luxury of a highly deep outfield depth chart.
Ryan Spilborghs and Seth Smith should see increased playing time through the month of May.  The Rox have also called up Eric Young Jr. from Triple-A Colorado Springs and he can play almost anywhere.  The season goes on in Denver.