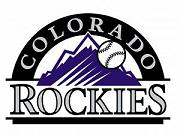 UPDATE: Clark Spencer snapped a picture of today's remembrance ceremony for the Miami Herald.  And here's a recap of the day's events.
12:02pm: ESPN's Amy K. Nelson wrote a powerful piece this morning on Rockies president Keli McGregor, who died suddenly last week in a Salt Lake City hotel room.  McGregor wasn't often in the public eye as an executive of the Mountain Time Zone's only baseball team, but he clearly had an impact on the lives of those that knew him.
Take a minute, or two, and learn a little about him and the way he affected the Rockies both on and off the field.  He was a family man at heart, with four kids ranging from ages 11 to 19, but also gained the admiration of million-dollar athletes during his 17 years with the organization.
Veteran first baseman Todd Helton was asked to describe McGregor just 48 hours after the announcement of his untimely death.  His response:
"That's a tough one," Helton said, quietly. "If you went around and asked
anybody in this room what kind of man you'd want to grow up and be, 99
percent would have said him. He's the type of guy we all strive to be."
The Rockies will honor McGregor this morning with a public service at Coors Field.