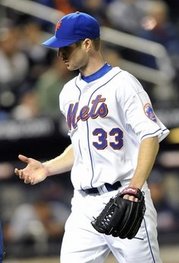 John Maine was forced to leave Friday's game against the Braves in the fourth inning due to muscle spasms and pain in his left (non-throwing) elbow.
It's odd, but certainly nothing new for Maine, who left a a start against the Phillies on July 5, 2008 with a cramp in his left forearm. According to Ed Price of AOL Fanhouse, Maine said this pain "feels exactly the same" as that occasion.
For what it's worth, Maine didn't miss any time after that start, but that doesn't make Friday any less frustrating for the right-hander. Among whispers about his lost velocity, Maine is 0-1 with an 8.64 ERA and 2.10 WHIP over his first four starts.
Via Adam Rubin of ESPNNewYork.com:
"I started to feel good — all the work I put in between the last two
starts. I was right there. A couple of walks here, a bad pitch here, but
overall I felt fine. The ball was coming out. I was around the zone. I
didn't miss many up. I was starting to figure it out and I felt good.
That makes it more frustrating, something like this. It's frustrating.
It's not that I get knocked out of the game. I get forced out by this."
He's currently listed as day-to-day, but if Maine is forced to miss a start, the Mets could go with Hisanori Takahashi, who allowed one run over three innings on Friday night, striking out seven of the 12 batters he faced. They also have Tobi Stoner, R.A. Dickey or Dillon Gee in the minor leagues. Or they could do something crazy and use Jenrry Mejia. Wait, what am I saying? He's just a mop-up man.