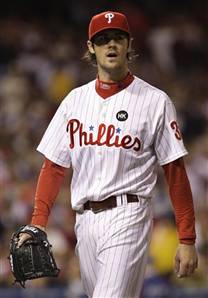 UPDATE: Bill Baer of Crashburn Alley comes to a similar conclusion, if you are looking for a more in-depth analysis.
1:45 PM: Facts are facts. Cole Hamels was knocked around pretty good by the Diamondbacks on Friday night, giving up a career-high four home runs, including three in the fourth inning. Hamels has allowed seven home runs over his first 24 2/3 innings this season, and according to Matt Gelb of the Philadelphia Inquirer, he has served up 14 home runs over his last 40 2/3 innings if we include the 2009 postseason.
Pretty ugly numbers, but certainly nothing to panic about quite yet. Despite a 5.11 ERA, Hamels still has a very healthy 26/6 K/BB ratio over his first four starts and isn't allowing any more flyballs than he usually does (37 percent flyball rate as opposed to 39.4 percent for his career). What has changed is his HR/FB rate, which currently sits at 25.9 percent. That simply won't continue. xFIP (a statistic that attempts to normalize a pitcher's home run rate) currently has Hamels at a much more palatable 3.26.
I realize these are just statistics and Hamels still has to go out there and actually execute a complete gameplan — oddly, he only threw 16 changeups last night, largely abandoning his best pitch — but there's plenty of evidence to suggest he's just riding out a period of very bad luck. We'll see.