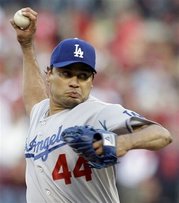 The Dodgers have placed right-hander Vicente Padilla on the 15-day disabled list due to a sore right forearm, according to Dylan Hernandez of the Los Angeles Times.
Padilla, 32, is 1-1 with a 7.06 ERA and 1.48 WHIP over his first four starts this season, posting a 23/6 K/BB ratio over 21 2/3 innings. He gave up three runs over six innings as part of a no-decision in a loss to the Reds on Thursday.
It's unclear who will replace Padilla in the starting rotation, though Ramon Ortiz is one rather underwhelming possibility. The veteran right-hander has a 6.94 ERA over nine relief appearances so far this season.
In a corresponding roster move, the Dodgers recalled right-handed
reliever Jon Link from Triple-A Albuquerque. Link, 26, was acquired from the White Sox in the Juan Pierre trade. He tossed two scoreless innings on Tuesday before being sent back to the minor leagues.