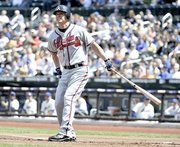 UPDATE: Jones tells O'Brien that he felt a pop in his right hip during his first at-bat on Saturday and expects that he'll be out of the lineup for "more than just one or two days."
2:59 PM: Chipper Jones, who turned 38 years old on Saturday, was forced to exit this afternoon's game against the Mets due to a sore right hip, according to David O'Brien of the Atlanta Journal Constitution.
The birthday boy was replaced in the lineup by Martin Prado. He is currently listed as day-to-day, but as we've learned with Jones, these various bumps and bruises can linger for a while. Jones is batting .283/.421/.500 with two homers and five RBI in 46 at-bats this season.