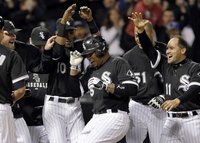 Andruw Jones celebrated his 33rd birthday in style on Friday night, slugging two solo home runs, including a walk-off shot in a 7-6 win over the Mariners.
Jones, who reportedly lost 15 to 20 pounds over the winter, is off to a fantastic start in Chicago, batting .293/.408/.756 with six home runs and nine RBI over his first 41 at-bats this season. He's been a lone early bright spot for an offense that has combined to hit just .219/.302/.386 thus far.
Still on cloud nine following Friday's win, the resurgent Jones told Dave van Dyck of the Chicago Tribune the following:
"I'm way far from done. I think I can play five more years."
It's a nice comeback story and he certainly deserves regular at-bats in the short-term, but don't look for this success to continue. Recognize that he's hitting .412/.500/1.118 with four home runs against lefties, as compared to a meager .208/.345/.500 with two home runs and 10 strikeouts in 24 at-bats against right-handers, consistent with his declining profile since his 41-homer season in 2006. U.S. Cellular Field should prove to be a pretty nice launching pad for him, but chances are he'll be more useful as a strict platoon player before it's all said and done.