Adrian Gonzalez is going to be the biggest story of the trade deadline this year. Everyone assumes that the Red Sox will be the front runners for him. And if they continue to stink, they may push even harder for him than they otherwise would. But they're not the only team in baseball who could use a cheap awesome first baseman. Jon Paul Morosi suggests the Braves could be in on AG.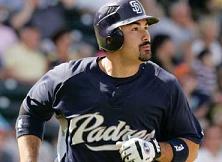 The basis: well, not even a rumor really. Just the realization that (a) the Braves need offense and could use a first baseman; and (b) Adrian Gonzalez is a first baseman.  Trades have materialized from less, of course, but at the moment that's all there is. No word from a Braves source. No word from a Padres source.
And I sort of hope it stays that way. As I wrote earlier in the week, the Braves are not new to this trade-for-a-stud-first baseman thing. They did it with Mark Teixeira a few years ago, and it was fairly disastrous in terms of the young talent the Braves had to give up. Given that Gonzalez is even cheaper and under team-control longer than Teixeira was, the price in prospects would likely be even higher.
And it would be an overpayment no matter what Gonzalez does while signed for 2010 and 2011, because there is no conceivable way that the current owners of the Braves — Liberty Media — would approve the $180 million+ or whatever it would take to sign AG long-term.
If the Braves traded for Adrian Gonzales it would be like a guy making $40K a year leasing a BMW. Maybe the monthly payments are technically affordable in the short term, but it's gonna cost too much regardless and at the end of the day he's not even gonna own the thing.
In short: nice attempt to stir the sauce pan on the hot stove, Jon Paul, but I don't think anything is cooking here.