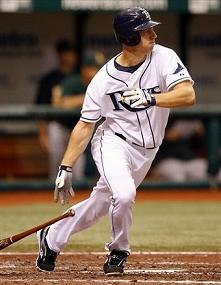 Marc Topkin of the St. Petersburg Times reports that the Rays have agreed to a contract extension with 2B/RF Ben Zobrist that could amount to a five-year deal.  Three years — which would be his arbitration years — are guaranteed. The next two years — covering 2014 and 2015, which would be his first two years of free-agency — are team options.  The dollars are not yet known but should be announced later today.
This is the second extension of note this spring which contains a significant team option as opposed to one of those tack-on team options at the end of a long, lucrative deal. Adam Lind was the other.
This is smart for the teams, of course, as it hedges against uncertainty and all of that.  For the players, it probably makes sense if there's a legitimate question about whether or not a big free agency payday is in the offing. Lind, for example, is a DH and as we all know, the DH market is horrible. Adding those team options makes a lot of sense for him.
It probably makes sense for Zobrist too, given that he's already in his age 29 season.  He'll be 33 and 34 in those two years of free agency subject to the option years, and if recent history shows anything, you don't want to be hitting the free agent market at that age unless you're a total stud.  I like Ben Zobrist a lot, but he's not quite in that category.
Obviously final judgment rests upon how much money is involved, but at least in terms of structure, this is a good deal for both parties.