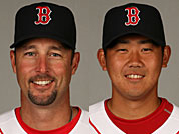 As Drew detailed on Thursday, Daisuke Matsuzaka is set to replace Tim Wakefield in the starting rotation, but it turns out that won't happen until next weekend in Baltimore, according to Paul Kenyon of the Providence Journal.
Wakefield will make one more start this Sunday against the Orioles, meanwhile, Matsuzaka will stay fresh with a simulated game scheduled for Monday in Toronto. Francona wouldn't say exactly when Matsuzaka will make his first start, but the simulated game should line him up for a start on Saturday, as the Red Sox have a scheduled day off on Thursday.
When asked if he had spoken to Wakefield about his decision, Francona chose his words rather carefully:
"I don't know how to say this," he began. "We're trying to
communicate with our guys the best we can and at the same time not ever
communicate through the media. That doesn't ever seem like a good idea.
We'll do what we think is right."
The Red Sox have survived through a far more awkward situation with Mike Lowell — and it looks like he might end up being pretty useful with the current struggles of David Ortiz — so don't be surprised if the grizzled Wakefield has a chance at redemption somewhere down the line.