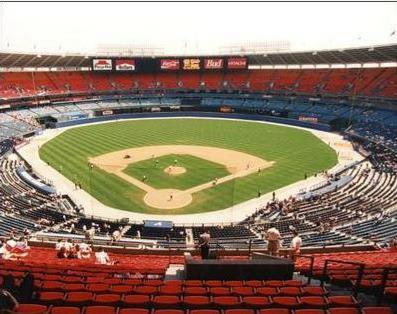 I disagree with Charles Krauthammer on almost everything, but he and I are hand in hand about the pleasure of rooting for a losing team. He's a Nats' fan, you see, and though he'd like to see some winning baseball, he's just fine if it takes its sweet time arriving:
I go for relief. For the fun, for the craft and for the sweet, easy cheer at Nationals
Park. You get there and the twilight's gleaming, the popcorn's popping, the
kids're romping and everyone's happy. The joy of losing consists in
this: Where there are no expectations, there is no disappointment . . . No one's happy to lose, and the fans cheer lustily when the Nats win.
But as starters blow up and base runners get picked off, there is none
of the agitation, the angry, screaming, beer-spilling, red-faced ranting
you get at football or basketball games.
The Braves have either been a winning team or a respectable team for 19 years now, but my love affair with baseball was solidified between 1985 and 1990 when they sucked eggs night-in, night-out. I didn't go to Atlanta-Fulton County Stadium and take it in like Krauthammer does the Nats, but I got something close to the low-leverage, amiable experience watching on TBS each night. Even the sound production on those broadcasts seemed designed to be low key and to lower expectations.
Krauthammer's best line in the piece is "you root, root, root for the home team, but if they don't win 'it's a
shame' — not a calamity."  I totally dig that. Don't get me wrong: I want my team to win. But unlike the way I get during Ohio State's football season, I can enjoy baseball even if they don't, because it truly is a pastime more than it is a sport as that term has come to be thought of. There are winners and losers, but all the fans win for having been able to take in the ballgame.
It's a great show. It's a great experience. And in some weird way, it's almost more enjoyable when the expectations are at their lowest.  If I lived in D.C. or Pittsburgh or Kansas City I'd probably buy Nats' season tickets to get a taste of that.