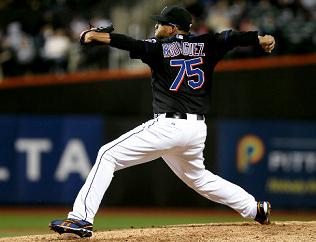 I have a lot of friends in academia. When they talk about the things they love about that world, they talk about the free exchange of opposing viewpoints. The ability to lay one's intellectual cards upon the table and engage with those who subscribe to competing philosophical creeds in pitched, but respectful battle. What they love the most is that, though tempers may flare from time to time over the issues of the day, collegiality reigns supreme, because they are all ultimately there for the same purpose: to further the Knowledge of Man.
Which is kind of what it's like at the New York Post:
In many ways [Francisco] Rodriguez really does have the soul of those old-time
stoppers, the ones who growled for the ball every day and pitched as
long as they needed to. Someone asked K-Rod if he'd be available to
pitch tonight, against the Braves, despite the five outs and 25 pitches. "Of course I am," he said, in a tone that surely would've made
the Goose proud.
That's the Post's Mike Vaccaro, practically lionizing K-Rod for getting a five-out save against the Cubs last night.  But wait! Who's that strolling into the lecture hall?  Why, it's Professor Sherman!
Jerry Manuel is desperate . . . Manuel already has used Fernando
Nieve in 11 games, the most in the majors. That is a pace of 111 relief
appearances for the season. Manuel also ridiculously had Francisco Rodriguez warm up between 8-10
times last Saturday in the 20-inning game against the Cardinals and
then asked for a five-out save last night against the Cubs.
Pushing relievers now will cost the Mets at some time this season.
They clearly disagree on last night's K-Rod save. I'm leaning Vaccaro's way, because I think it's ridiculous that anyone would pay a relief pitcher what Rodriguez makes and never ask him to pitch more than one inning. But I suppose reasonable people may differ on this point, and I tend to agree with Sherman's points about Fernando
Nieve.
But isn't that the beauty of academia? We can argue about these points all day long and, even if we never come to agreement, we are all enriched by the process of debate.  Kudos to the New York Post for allowing itself to serve as the marketplace of ideas!