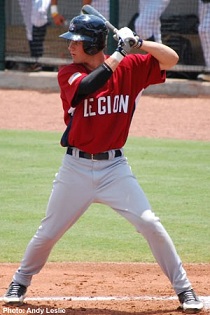 The more we hash over the physical and mental tools of a 17 year-old kid the more creepy it feels, but he's put himself out there and it's gonna happen anyway, so there's no sense in ignoring it.
The latest: Bryce Harper is apparently a jerk. Really. That's the story according to Kevin Goldstein of Baseball Prospectus who spoke with scouts about the guy, one of whom called Harper "one of the worst amateur players he's ever seen from a makeup standpoint, with
top-of-the-scale arrogance, a disturbingly large sense of entitlement,
and on-field behavior that includes taunting opponents."
The first impulse is to say "hey, he's 17, let the kid grow up a bit." But then you realize that the scout is comparing him to other amateur players, which includes high school players Harper's age. We have no way of knowing if that report is accurate, but it's hard for me to fathom why someone would simply invent such a tale from whole cloth. He might very well be a jackass.
The question is, assuming he is a jackass, does it matter?  It's possible that the alleged sense of entitlement and arrogance stems from the fact that he's always been treated as something special. Bad thing!  But if he gets drafted by the Nats this summer, signs quickly and is sent to Vermont or Hagerstown, he'll be out of that privileged environment and placed alongside other kids who, while never the star that he was, were all the cat's meow back in their hometowns. And he'll be coached by guys who have seen it all before and will not, assuming the organization has instructed them properly, put up with the primadonna act. How he responds to instruction and correction with respect to any bad behavioral traits he possesses is far more significant than how he acts when he's the BMOC out in Las Vegas.
But how can the Nats (or whoever) know if he'll respond?  If I were reading Harper's scouting reports I'd pay less attention to whether or not he taunted some guy once or showboated and pay more attention to how he responded to negativity.  When he slumped (if he slumped) did he sulk or did he put in more work?  When someone brushed him back did he get agitated and distracted or did he get back up and go back to work? Based on Bryce Harper's unique
circumstances, it's entirely possible that no one has ever told him to
quit being a jerk. In light of that, if I was the Washington Nationals
and such reports gave me pause, rather than be scared off, I'd look past
the manifestation of his alleged character traits and look to see
whether the kid is teachable on the most basic level.
Being an idiot is not some unique thing in the world. On some level it's all a function of a given person's self-awareness and how they respond to stimuli,and there may be ways to suss out whether the kid is correctable or not. Anyone who simply reads Goldstein's scout's comments and writes off Harper is akin to a doctor hearing a patient cough, assuming it's TB and sealing off the ward. We're hearing about symptoms here, not the disease.