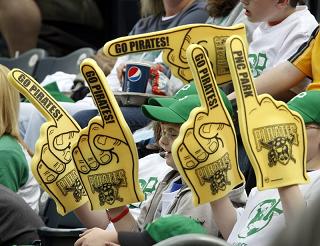 Brewers 20, Pirates 0: I think the most remarkable thing about this game is that the Brewers were set down 1-2-3 in the first inning.
Phillies 8, Braves 3: This series began with the Phillies bullpen breaking down, but that ended up being a fluke. The real story of the series was that the Phillies got great starting pitching in all three games, and between that, their patience at the plate and their excellent defense they clearly showed that they are the better team right now. And Derek Lowe showed something too: he has nothing left.
Rockies 2, Nationals 0: When Ubaldo Jiminez gave up the double to Willie Harris in the first inning, Johnny Vander Meer — as has become his tradition — opened up the bottle of champagne he's been saving, celebrating and savoring the fact that he remains the only man to pitch back-to-back no hitters. Wait, what? Johnny Vander Meer died in 1997? Oh, never mind.
Athletics 4, Yankees 2: The Yankees turned a triple play and pissed off Dallas Braden something fierce, but they lost the game. My thought on the Braden thing: I've never heard of the unwritten rule about not walking on the mound, but I want to think less of A-Rod for it all the same if that makes any sense. Mostly I just want someone to recut the video of Braden jawing at Rodriguez with the audio from the "get off my f—— obstacle" scene from "Full Metal Jacket" because that would be cool.
Reds 8, Dodgers 5: Manny left in the sixth after straining his right calf.  When the season started I thought oblique injuries would be all the rage, but it turns out that calf injuries are really where it's at. Just goes to show that you can't predict fashion.
Mets 5, Cubs 2: Johan Santana blanked the Cubs for six innings and ended up giving up only one run, Ike Davis had three hits and K-Rod came into a jam in the 8th and put out the fire, earning his first save of the year. Those things together make this a very satisfying win for Mets fans.
Indians 8, Twins 1: A nice win for the Indians, but the big story coming out of Cleveland yesterday is that the Indians have invited me to the Tribe Social Deck for the game against the Tigers on May 7th. This gesture of taste and goodwill no doubt led to their fine performance.
Rangers 3, Red Sox 0: C.J. Wilson gets his first career win as a starter. He was matched by Clay Buchholz for most of the game, but things unraveled in the 7th as, after one run was already in, a stolen base put Nelson Cruz into position to score on a David Murphy double and a throwing error by Buchholz allowed Murphy to score.
Rays 10, White Sox 2: The rays outscored the White Sox 22-2 over the past two games to take the series. Tampa Bay completed a 9-1 road trip. Given the home field advantage they've come to expect in the Trop, this bodes well. Seven walks, seven hits and seven earned runs for Jake Peavy who, even if he can't be happy about his game, has to at least appreciate the symmetry of his performance on an aesthetic level.
Tigers 5, Angels 4: Great moments in efficiency: Justin Verlander threw 125 pitches in five innings. He got the win, however, after he was bailed out by a Tigers' bullpen which has thrown 15.2 consecutive scoreless innings. And here I thought that would be the team's weakness this year.  In other news, Torri Hunter was presented with his Gold Glove before the game. He then proceeded to bat from the DH slot. There's got to be some kind of lesson in there somewhere, but I just can't tease it out.
Marlins 5, Astros 1: Jorge Cantu extends his hitting streak to 20 games.  Know what? I think baseball history needs a little shaking up and something as random as Jorge Cantu hitting in 57 straight games would totally do the trick. Viva chaos and all of that.