Johnny Damon was ejected from last night's Tigers-Angels game, ostensibly for arguing balls and strikes.  Word on the street, however, is that home plate umpire Dale Scott was less angry about his judgment being questioned than he was about his judgment being questioned by a 36 year-old man with this haircut: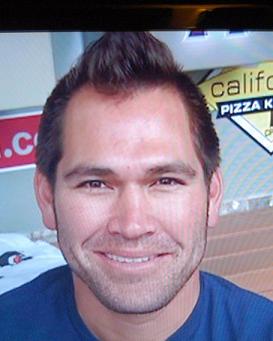 If I was the umpire I'd have been less angry at the haircut itself than I would be at Damon's apparent gutlessness. If you're going with the mohawk, you'd better go full-Baracus with that bad boy. In fact I can guarantee you that Damon would have had a smaller strike zone last night if he hadn't brought that weak haircut sauce.
UPDATE:  This photo was taken by Kurt Mensching of Bless You Boys, and the original post of it can be seen here. Apologies for the lack of attribution, Kurt!