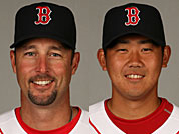 Daisuke Matsuzaka has looked fairly impressive in three minor league rehab starts at Triple-A Pawtucket.  The next time he takes a mound, he will be donning a Red Sox uniform, and will be a member of Boston's starting rotation. 
Of course, that means one of the current members of the Red Sox' five-man rotation must be bumped to the bullpen, and WEEI.com's Rob Bradford heard from a source Thursday evening that it's going to be Tim Wakefield. 
Wakefield, a veteran knuckleballer, has posted a 6.38 ERA and 1.64 WHIP through three starts this season.  Clay Buchholz, also considered for a demotion, has compiled a 1.50 ERA through his first three stats.  Despite what Red Sox manager Terry Francona may tell the Boston media, the decision was almost certainly an easy one.