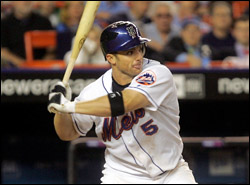 Don't look at me, Craig Carton: even a guy with a journalism background is saying it this time:
Wright was struck on the wrist by a pitch in the first inning. He
flubbed a tough backhand grounder for an error in the third. He ended
his soggy day 1-for-2 at the plate, with an RBI single. When he struck
out in the sixth, he was jeered by a vocal, impertinent minority in Flushing.

This isn't new anymore. The knuckleheads in the stands have started
booing Wright with alarming regularity. Less than a 10th of the way into
a fresh season, Met fans are razzing their best position player because
they need a target, any target, and because Omar Minaya is never included among the pregame lineup announcements.
I know they're entitled and that they need an outlet for their rage, but you just don't see fans booing a team's best player outside of New York. I think that says much less about what's appropriate or not and much more about the New York fans' sense of entitlement and rage.
But whatever you think about this subject, I'll grudgingly grant that reasonable minds can disagree about booing Javy Vazquez.  Anyone who boos David Wright in Citi Field, however, needs their head examined.