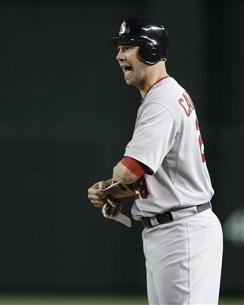 It wasn't really a fracas, and it was far short of a brawl, so ruckus is the best I can do.
It started when Edwin Jackson hit Chris Carpenter with a pitch in the second inning. Actually, it may have started when Jackson hit Ryan Ludwick in the first, but hitting Carpenter is what set things off.  The pitch trailed in and smacked Carpenter on the left wrist, actually opening up a little cut. Carpenter stepped towards Jackson and barked at him as he took his base.
The next batter — Skip Schumaker — grounded into a double play.  Carpenter came in hard on Kelly Johnson with the intention of breaking it up and doing a little damage, but no one was the worse for wear. But the benches cleared all the same, baseball players milled around as though they could fight if they wanted to, but really, it's been a good while since we've had a really fun display of fisticuffsmanship in Major League Baseball. Everyone makes too much money and doesn't want to risk it, I suppose. Either that or they're just better at being professionals who realize that rolling around the ground and punching one another doesn't get you too far.
Carpenter admitted after the game that his slide was, as they say in baseball circles, horses—:
"It was an unprofessional move. I shouldn't have done it. I told
[first-base coach] Matt Williams at first to tell Kelly that it
was unprofessional and I shouldn't have done that. I was in a position
where I didn't control my emotions enough to not do something stupid."
Still, Carpenter was none too happy about the pitch that hit him:
"I hit .100. It's not like I can hit. Throw the ball down and away.
Throw a slider, whatever it is. It's different if
you're Carlos Zambrano, Adam Wainwright, Dan Haren, guys that can hit.
You throw 95 miles per hour, chucking balls up high, never mind you
can't control it. Come on. He's missing by three feet. It's not right."
I understand why he's mad, but I can't see any good adding another rule to baseball's already thick unwritten rulebook (i.e. thou shalt not pitch inside to the opposing pitcher). Effective or not, Carpenter, and all pitchers, have bats in their hand when they come to the plate and mean to do violence to the baseball. If the seven of us who still take the concept of pitchers hitting for themselves seriously wish for the concept to be maintained, the last thing we need is to start treating them with kid gloves. It didn't seem to me that Jackson was trying to hit Carpenter. He just had lousy stuff last night.
The only remaining question is whether Carpenter gets fined or suspended or anything for the slide. Or, rather, for admitting that he had bad intent when he did it.  I would hope not — this was really a case of no-harm, no-foul — but I long ago gave up trying to figure out any method behind the madness of baseball discipline.