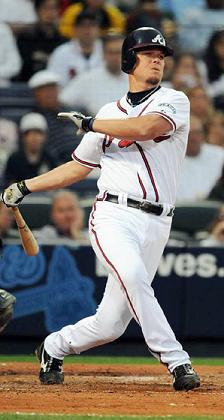 Former Braves outfielder Brian Jordan was on Sirius/XM with Jim Bowden and Casey Stern today, and the subject of Chipper Jones' health came up.  Stern asked Jordan if Chipper's recent oblique injury suggested that he is "done."  Jordan's answer was interesting:
Jordan: "Well, I mean, he leaves you scratching your head because, you know, it's been a problem, especially his obliques the last couple years, and I think he just doesn't think he's aging.  (laughs)  As you get older, you've got to work out a little harder to prevent injury and I'm not sure if he's really dedicating himself, his body, to doing that because I was really surprised to see that oblique injury pop up so early this season.  Because he said he worked out, he got himself in better shape but, you know, I know the fans, I know myself, you know, we're all scratching our heads and we're just crossing our fingers that he can stay healthy . . .
Bowden: "So, Brian, you think that he's getting hurt because he's not working out hard enough and staying in shape at his age?"
Jordan:  "Uh, you know what, I really believe so.  I think at some point when you start getting older, you really have to do the extra things.  You've got to get in that whirlpool, you've got to stretch, and really work hard to keep your flexibility before you get out there on the field.  And I'm not sure if he's dedicating himself to doing that.
Look, I have no idea if Chipper Jones works out enough or not, but given that Brian Jordan's last four seasons consisted of 66, 61, 76 and 48 games due to a metric crap-ton of nagging injuries, I'm not sure he is the guy to be calling Jones out here.  By all accounts Brian Jordan was a workout freak, and he was a walking M*A*S*H unit. Is it not possible that Jones, like Jordan, is just one of those guys who is susceptible to injuries?
And yes, I have personal feelings on this matter. If it wasn't for Brian Jordan's nagging injuries in 2005, Jeff Francoeur likely wouldn't have been called up when he was, which would have either (a) given him more time to learn in AAA; or (b) kept him out of Atlanta long enough for the Braves to realize that he was not, in fact, the second coming.
Either way, I look forward to hearing Chipper Jones' response to all of this. Because he's not usually one to mince words.