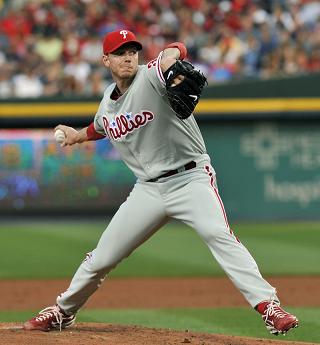 Phillies 2, Braves 0: Roy Halladay can pitch a little. The Braves threatened exactly once, in the seventh inning when they loaded the bases on hits from Chipper Jones and Brian McCann and a walk from Jason Heyward. This was the baseball equivalent of the cat letting the mouse run a few feet just so it could see the mouse run. Halladay apparently grew bored with this little exercise, however, got the double play — courtesy of some slick defense from Chase Utley — and the threat was over.  Otherwise? Pure domination (CG, SHO 7K).  For me it was like the Jiminez no-hitter the other night. Sucks that it was my team, but something to behold all the same.
Yankees 3, Athletics 1: Phil Hughes takes a no-hitter into the eighth inning but loses it on a combacker from Eric Chavez that bounched off Hughes' left flank and eluded him long enough to allow Chavez to reach first. Nice effort all the same. The run with which he was charged was an inherited runner which Joba Chamberlain allowed to score. I'm guessing right now is probably not the best time for me to begin my "Girardi got it wrong when he picked Phil over Joba" campaign, huh?
Red Sox 8, Rangers 7: Second walkoff win in a row for the Sox, this time in the twelfth inning as Ron Washington has Dustin Nippert intentionally walk Dustin Pedroia to get to Kevin Youkilis, who then hits the game-winning double.  Walking someone to get to Youk with runners in scoring position in a tie game? Are we sure Washington is passing all those drug tests he's supposed to be taking?
Padres 5, Giants 2: The Padres will not be stopped, as they win their sixth in a row. Jon Garland gave up one run in seven innings against a Giants' offense that suddenly looks a lot like 2009's version. Oh, and here's something you don't see every day: 18 minute rain delay in San Diego. I called my brother who lives out there to ask him what the heck was happening. He said he couldn't talk because he was too busy gathering survival supplies and making sure his life insurance was paid up. They just don't do rain in San Diego.
Royals 4, Blue Jays 3: There's nothin' wrong with Zack Greinke, it would seem, as he threw seven strong innings. His bullpen betrayed him once again, however, so he was gypped out of his first win of the year. Alex Gordon made up with an ugly day both offensively and defensively by hitting the game-winning homer in the 10th. Jose Guillen continues his torrid start, going 2-4 with a homer.
Nationals 6, Rockies 4: A victory, but Ryan Zimmerman left the game after appearing to hurt his hamstring, so we'll put it in the "Pyrrhic" column. On the bright side, Jason Marquis was sent to the DL after the game, so that bad man can't hurt you any more, Nats fans.
Brewers 8, Pirates 0: I'll hand it to the Pirates: when they lose, they don't mess around. They go out there and lose with gusto. So far this year they've lost games by scores of 10-2, 9-1, 15-6, 9-3, 6-0, 8-1, and 8-0. It's almost a courtesy when you think about it. It's as if they're telling the good people of western Pennsylvania "Hey, it's cool. You can turn the game off now and go make sandwiches with fries in them or whatever it is you do all day. There's no chance we'll make it close."
Astros 5, Marlins 4: How it is you take two of three from Philly and then look bad against Houston two nights in a row is a mystery to me. It's like the Marlins are an NBA team or something. Lance Berkman was caught stealing third at one point in this game. What possible reason would Lance Berkman have for stealing third base?
Twins 6, Indians 0: An eerie start for the Erie warriors as they drop a heartbreaker to the Twins, six to nothing.  Francisco Liriano allows zero runs for the second straight time. Michael Cuddyer had a two-run triple and a homer. David Huff walked six guys. He tried for the corner and missed a lot. Not sure how those guys could lay off pitches that close.
Cubs 9, Mets 3: Alfonso Soriano (3-4, 3B, HR, 3 RBI) shows everyone that he belongs in the lineup and Carlos Silva (6 IP, 2 H, 1 ER)  shows everyone that he belongs in the rotation. After the game, however, Lou Piniella reassigned Silva to pitch batting practice and reassigned Soriano to a job as a Dippin' Dots vendor. Lou said they were each cool with it. After this game Ike Davis' line stands at .273/.273/.273, which is kind of cool unless you're interested in Ike Davis producing and stuff.
Dodgers 14, Reds 6: The Aaron Harang contract drive continues (5.2 IP, 10 H, 6 ER).
Rays 12, White Sox 0: Mark Buehrle fell just nine hits, six runs and a walk short of his second straight perfect game against the Rays.
Cardinals 9, Diamondbacks 4: Tied into the ninth and then the absolute worst bullpen in the game allows St. Louis to score five. This after Arizona had come back from being down 3-0 in the 1st. Two homers for Colby Rasmus, the second of which provided the winning margin. A three-run job from Skip Shumaker in the final frame was nice insurance.  This one was sprinkled with extra fun too, as the benches cleared when Chris Carpenter, running the bases after getting hit by an Edwin Jackson pitch, tried to take out Kelly Johnson on a double play.  The dude would be pitching the next half inning so you'd think he'd just wait to hit someone himself, but I guess Carpenter is a team-first guy and would rather not get ejected in his efforts to maim the opposition.
Mariners 4, Orioles 1:  I have Monday morning in the when-is-Dave-Trembley-getting-fired pool. It's an off day right after a road trip. Saves the team an extra plane ticket getting Trembley back home and everything. Just really good timing, ya know?
Tigers 4, Angels 3: The first batter Brian Fuentes faces after coming back from the DL — Miguel Cabrera — homers off him in the 9th inning, tying up the game. A couple batters later Ramon Santiago singles in Gerald Laird for what would be the game winner.  Mike Scioscia should be commended for his loyalty to the Fue
ntes, but it ain't like the
team had any trouble closing games out while he was out.