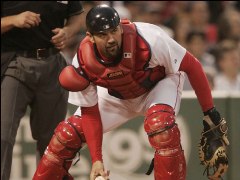 Red Sox manager Terry Francona said on his weekly radio show that Jason Varitek will catch Josh
Beckett tonight.  This is the third straight time that Varitek has caught Beckett, but according to Francona he's no personal catcher or anything.
I guess he would have had a chance to prove that and use Martinez if V-Mart wasn't still suffering post traumatic "holy crap Vlad Guerrero stole second and third base on me last night" disorder.
If I were the Rangers I'd run hog wild on Varitek tonight too, just to show that I didn't play any favorites. I mean, it's not like he's got a cannon on him or anything.