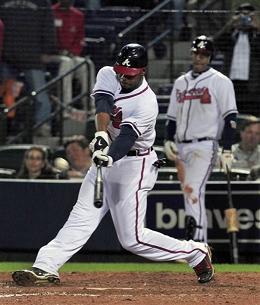 Braves 4, Phillies 3: Troy Glaus hit a two-out, two-run homer to kick off the comeback in the ninth, and Nate McLouth hit the walkoff job in the tenth, but make no mistake about it: Jason Heyward — whose two-out solo shot tied things up right after Glaus' jack — is The Man. I keep saying he's going to come back to Earth because that's what 20 year-old rookies do, but there's no question that we're seeing something special.  The pitch he hit — a changeup down and away — struck him out earlier in the game. But he adjusted this time, he reached down for it and he hit where it was pitched, showing that unlike so many other young sluggers, his power is not merely a function of a violent swing at mistakes in his wheelhouse.
Tough luck no-decision for Kyle Kendrick, who shut out the Braves on four hits over eight innings and sent a huge chunk of the Atlanta fans out the exits before it was over.  One of my NBC bosses is a huge Phillies fan. As soon as McLouth hit his homer he emailed me: "our bullpen sucks."  My response: I know. That's why I picked them to finish in second place.
Red Sox 7, Rangers 6: Texas had a 6-2 lead at one point but they blew it. Pfun Pfact: The blown lead came without them once using their best relief pitcher, Neftali Feliz, because games can't be saved in the sixth, eighth or ninth innings. Lifetime minor leaguer Darnell McDonald, who was called up in the wake of the Ellsbury and Cameron injuries, hit a pinch-hit two-run homer in the eighth inning to tie the game and
won it with an RBI single in the ninth.  Look for him to be deified by the Boston press this morning. And with the way things have been going, who can blame them?  Pfun Pfact II: The Rangers had nine stolen bases, most of them off Wakefield/Martinez. They lost the game, but you can't say they didn't have a game plan.
Padres 1, Giants 0: Usually when you give up one hit and strike out ten guys you're going to win the game. Not so for Jonathan Sanchez, who allowed only a single, followed up by a sacrifice fly that same inning, in seven but takes the toughest luck loss of the season. On the Padres' side, Mat Latos, Mike Adams and Heath Bell combine to shut the Giants out.
Mets 4, Cubs 0: Mike Pelfrey has been straight money so far this year. That's two straight starts — and one intervening relief appearance — in which he hasn't allowed a run, and in his only other appearance this year he only allowed two runs.
Reds 11, Dodgers 9: The Reds blew a six run lead in the 8th but got two back in the bottom of the inning to hold on. Dusty Baker used seven pitchers in this one. He had better conserve his resources, though, what with all those innings they won't be getting from Edinson Volquez they were counting on. Oh, wait . . .
Astros 7, Marlins 5: The return of Lance Berkman happens on the same night the Astros' post their highest run total of the season. Coincidence? I think not.  Puma had a couple of RBI on fielder's choices and added a double, and the Astros took advantage of the Marlins' Tim Wood to come from behind.  Eighteen game hitting streak for Jorge Cantu, though.
Twins 5, Indians 1: Kevin Slowey struck out nine and allowed a single run over eight innings. Lots of ugly for the Indians, particularly on defense, with errors and wild pitches and stuff.
White Sox 4, Rays 1: Tampa Bay finally loses one, thanks to a dominant performance by John Danks (8 IP, 2 H, 1 ER, 9K). The Rays had three hits in the whole game, all of them by Carl Crawford. Of course they're used to not hitting against the White Sox. The last time they played, Mark Buehrle threw a perfect game at them.
Brewers 8, Pirates 1: Not long after this game went final, the AP recap of it had the headline "Bush outduels Morton as Brewers win." They changed it not long afterwards, but it's nice to see that someone at the Associated Press has a sense of humor (Morton: 1 IP, 6 H, 6 R; Bush: 7 IP, 3 H, 0 ER). Some duel!
Blue Jays 4, Royals 3: Vernon Wells went 3 for 4 with a homer and two doubles.  After the game he was told that he had just passed Joe Carter on the Blue Jays' RBI list. Wells said "It's cool, but Joe has a number that none of us in this
clubhouse has and that's two World Series rings."  Meanwhile Cito Gaston snoozed silently in the corner, no one thinking it right to wake him up.
Rockies 10, Nationals 4: The Rockies played with heavy hearts in light of the death of team president Keli McGregor. The team honored him by hanging a jersey with the No. 88 — McGregor's college football number — in the dugout. They also honored him by taking the field and unloading on the Nats. You often hear a lot of polite but empty praise for executives who pass on. Based on everything I've read about McGregor in the past 24 hours, however, he was truly loved and respected in the Rockies organization and throughout Denver.
Diamondbacks 9, Cardinals 7: Dan Haren gave up seven runs on nine hits, but he also went 4 for 4 with an RBI to hold the Cardinals off. Two homers for Ryan Ludwick in a losing cause, as they say.
Mariners 3, Orioles 1: The M's have won six of seven and right now their biggest problems are that (a) Milton Bradley's calf muscle started acting up again and he had to leave the game; and (b) they'll have a hard time figuring which really good starter will have to get bumped in ten days or so when Cliff Lee comes back, with Jason Vargas gaving up just three hits in seven innings last night. In the grand scheme of things, having Milton Bradley out of the lineup and having too much good pitching aren't terrible problems to have.
Angels 6, Tigers 5: Howie Kendrick drove in three and Hideki Matsui added two, but the Halos almost blew this one, watching a 6-0 lead almost evaporate — thanks in part to Scot Shields walking three guys in the seventh — before Fernando Rodney shut the Tigers down in the ninth.
Yankees 7, Athletics 3: Javy Vazquez was good enough to get the win, giving up three runs in 5.1 innings. Still, booooooooo, because it's our God-given right. A-Rod hit a three-run homer. Nick Swisher, who had a hit after he had been slumping badly, said after the game "I
finally found some grass."  Well, it was 4/20 yesterday, and he was in California . . .