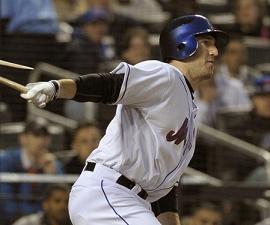 I catch a lot of hell for ripping the Mets, but I like to at least think that I have a reason for it when I do it. Compare this to Joel Sherman who — and I am not making this up — anchors this morning's column accusing the Mets of "mismanaging" Ike Davis' career on the fact that they flew him down to New York on an afternoon flight instead of a morning flight.
I think he's going for a metaphor here or something, using the flight as a taking off point (see what I did there!) to criticize the Mets for not having Davis up with the big club from the start of the season. Which is a fair criticism — Davis certainly would have been a better choice than Mike Jacobs — but one that, on it's own, constitutes a sentence or two, not a whole column. No, for that he needed to fill out with the flight thing. Lost in all of this is the fact that (a) the Mets won last night;
and (b) Ike Davis helped them win, somehow overcoming the debilitating
jet lag one gets when flying from Buffalo to LaGuardia.
The whole thing is couched as a complaint against Omar Minaya, by the way, with his name in the headline and picture in the column. But even if you take the criticism of the timing of Davis' callup seriously, reading the column gives one the sense that the decision to do it was one that took signoff from others (i.e. a Wilpon or two) and wasn't necessarily just Omar's call, so ripping Minaya over it seems unfair.