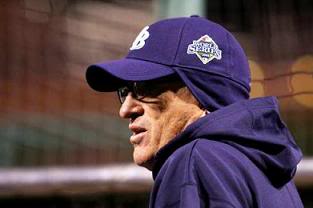 UPDATE: After "reinterpreting" the ruling, major league baseball will allow Joe Maddon to wear his hoodie, according to Marc Topkin of the St. Petersburg Times. It's a victory for the little, err, casual people.
Monday, 5:43 PM: Rays' manager Joe Maddon likes to wear a hoodie over his jersey — or more likely, over a t-shirt in lieu of a jersey. Major League Baseball has put the kibosh on that, however, telling him that the hoodie is not approved for on-field wear. Maddon said he'll stop wearing the hoodie.
You might recall a couple of years ago baseball told Terry Francona that he needed to stop wearing that little short sleeve windbreaker he likes to wear. He still wears it, though.  How that's approved while the hoodie isn't, I have no idea. At least there's a chance some impressionable consumers would buy a Rays' hoodie after seeing Maddon in one.  I don't know anyone who would wear Francona's windbreaker. And it is all about commerce, isn't it? Or am I being obtuse?
I think managers should be able to wear anything they want to. Maybe we'd get some style out of these guys.  Ask yourself, what looks better: this guy wearing the official uniform of Major League Baseball; or this handsome gentleman here?
Now that's a hat you can set your watch to!