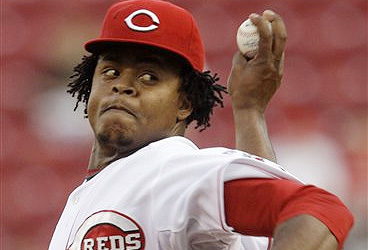 We're about to have a major media firestorm over the nature of PED suspensions Why? Because, pursuant to the drug testing policy and the Collective Bargaining Agreement,  Edison Volquez's suspension begins immediately. As in, while he's still on the disabled list due to recovery from Tommy John surgery.
What this means is that the 50 games he'll "miss" are games he never would have pitched in anyway. Sure, his pay will be docked, but that won't make anyone who expects PED punishments to be anything other than fines — which is basically everyone — happy. Not that his fine will be insubstantial — he'll be docked roughly $137K of his $445K contract this year, plus some fines I imagine — but his baseball life will not be altered one bit by the suspension.
Think anyone is going to have a problem with this?  Oh, yes. Yes they will. When Manny Ramirez was suspended last year he was able to return for a
minor league rehab assignment prior to the ending of his suspension.
That was a handful of games in Albuquerque and people freaked the hell out.  Volquez will essentially
have no change whatsoever in his recovery and return.
Gentlemen, start your outrage.  I may even consider joining in this time.