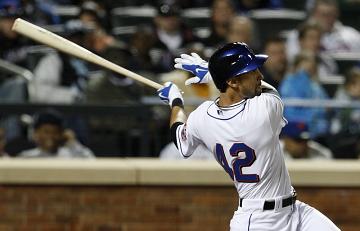 Mets 6, Cubs 1: A pitchers' duel until the 7th when the Mets unloaded on the Cubs' bullpen, courtesy of an Angel Pagan homer, a Jason Bay double, an Ike Davis single and a Sean Marshall wild pitch.
The Pagan at bat was hilarious. Jose Reyes was on first base, getting a few throws over, but never really looking like he was stealing, mostly because he couldn't figure out James Russell's move. The ESPN crew was going on and on with that totally cliched rebop about how a fast guy "changes everything" when he's on the bases, and all of that. Pagan then golfs one out to the deep part of the park, rendering the running game rather quaint and totally moot. Any acknowledgment of this fact by the announcers? Nah. They go into that "you can credit Reyes for disrupting the pitcher" jive. Just reminds you that so much of what we hear in a baseball broadcast is received wisdom bordering on religion. Pagan just timed it perfectly and unloaded with a beautiful, powerful swing. But no, gotta talk up that non-factor of a running game because you heard someone say that one time back when Lou Brock roamed the Earth.
Oh, Ike Davis debut: 2-4 with an RBI. Just before the RBI single Sean Marshall totally buckled his knees with a couple of curveballs, suggesting exactly why Davis has a reputation of being lost against lefties. The fact he stuck in on the third pitch and got the hit suggested, however, that it's something he's going to be able to overcome.
Rays 8, Red Sox 2: We spoke about this one at length already, but let's add one more nugget in the form of a Victor Martinez quote after the game: "It's kind of weird. Nothing is going our way. Every team we play, it
keeps falling their way." I didn't know that V-Mart wrote emo lyrics.
Nationals 5, Rockies 2: A homer and four RBI for Willie Harris puts the Nationals over .500, and I have to ask myself: did I rank these guys too low? More importantly, did I overrate the Rockies? Smallest crowd in Nats' history, by the way.
Blue Jays 8, Royals 1: Brandon Morrow impressed, allowing one run and three hits and striking out eight and Jose Bautista hit two homers and the Jays won in a laugher. A record low crowd for Rogers Centre, breaking the old record which was set five days previously. I guess the Royals coming to town doesn't really compete with Hockey Night in Canada during the playoffs.
Padres 3, Giants 2: Break up the Padres. Their fourth straight win came in dramatic fashion: a David Eckstein walkoff homer in the tenth. The little guy's homer helped bail out Heath Bell, who had blown the save in the ninth by serving up a dinger to Juan Uribe.  Oh, and Chase Headley was nearly smacked in the head with the barrel of Uribe's bat in the fourth inning after it was splintered by a Clayton Richard pitch.
Angels 2, Tigers 0: Joel Piniero's good night (7.1 IP, 9 H, 0 ER) overshadows Dontrelle Willis' pretty good night (6 IP, 4H, 2 ER, 2 BB).
Cardinals 4, Diamondbacks 2: Five straight losses for Arizona. Matt Holliday was 3-5 with a homer and 2 RBI. Brad Penny threw seven strong innings. Pfun Pfact: Albert Pujols went 0 or 3 against starter Rodrigo Lopez last night and is 0 for 8
against him in his career. Lopez should retire now so he can tell his grandkids about that.
Mariners 8, Orioles 2: The M's put up seven in the third, so they didn't really need Doug Fister to no-hit the Orioles into the seventh inning, but he went ahead and did it anyway.  Chone Figgins on the 6'8″ Fister: "It's good being tall."  Oh, and this game featured the third record-low crowd of the night.