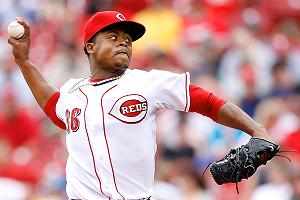 UPDATE III:  Sports Illustrated's Jon Heyman reports the identity of the PED positive: It's Edinson Volquez of the Cincinnati Reds.  Volquez will be suspended for 50 games. Of course, he's already out at least until the fall recovering from Tommy John surgery.
UPDATE II:  I have learned that the player to be suspended is a National League pitcher.
UPDATE: 
I have
learned that the PED suspension is NOT a New York player.
10:28 A.M. Baseball Prospectus' Will Carroll tweeted this first yesterday afternoon, and I have since confirmed it with a baseball source: a major league player is going to be suspended for a PED violation, possible as early as this week.
I could not confirm the player's identity, but my source tells me that it's a "semi-big" name, though not a "huge" name.  I imagine that, once the name is revealed, we'll have more fun arguing about what being a "semi-big" player truly means than we will wondering why he was not a bigger name despite taking PEDs.
Updates as they come . . .