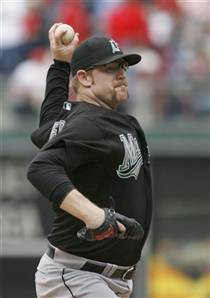 The Florida Marlins are full of potential. The question has always been whether or not they can realize that potential before their young stars get too expensive and are sold off to their richer competitors.
But this weekend, the promising young Fish showed that they just might realize their potential this season after taking two of three from the two-time defending NL champion Phillies at Citizens Bank Park.
The Marlins have now won five straight series at Philadelphia, which is remarkable enough.
Perhaps even more remarkable is how they did it this weekend, losing the series opener on Friday to Roy Halladay before taking the next two with dominating pitching performances by Ricky Nolasco and Nate Robertson (pictured).
Nolasco pitched a five-hitter on Saturday, striking out four and allowing just one run. Then Robertson combined with two relievers for a shutout on Sunday. That's one run in 18 innings from the Phillies, a team that entered Saturday's action leading baseball in batting average, runs, RBIs and slugging percentage.
The Marlins certainly caught the attention of the Phillies:
"I think the team that you saw out here today is young, and the last two years they started to get a lot of confidence and experience," Phillies manager Charlie Manuel said. "If they're pitching holds up, they definitely can be a threat."
The Marlins enter the week with an 8-5 record, 1/2-game behind the Phillies. They continue their nine-game road trip this week with three games at Houston and three more at Colorado. Are they for real? Can the young pitchers hold up? Will the defense carry it's weight? Can they stay healthy? Should be fun to find out.
FIVE SERIES TO WATCH
Yankees at A's, April 20-22: For those of you waiting for the 9-5 A's to go away and slip down into the standings where you think they belong, this could be your big chance.
Rangers at Red Sox, April 20-22: The Red Sox will be looking to end their skid against the Rangers, a team that has yet to live up to its preseason hype.
Phillies at Braves, April 20-22: Make sure you tune in on Wednesday to see what Jason Heyward can do – if anything – against Roy Halladay.
Cubs at Brewers, April 23-25: Brewers fans get annoyed when their ballpark is filled up with Cubs fans. They will be even more annoyed if Alfonso Soriano manages to hold onto any fly balls hit his direction.
Cardinals at Giants, April 23-25: Both teams are off to good starts at 8-4. Both feature a potent 1-2 punch atop their rotations. Only one of them has Albert Pujols, however.
ON THE TUBE
Monday, 7:10 p.m. ET: Cubs at Mets (ESPN)
Wednesday, 7:10 p.m.: Phillies at Braves (ESPN)
*Saturday, 4:10 p.m.: Yankees at Angels (FOX)
*Saturday, 4:10 p.m.: Mariners at White Sox (FOX)
Sunday, 2:10 p.m.: Cubs at Brewers (TBS)
Sunday, 8:05 p.m.: Braves at Mets (ESPN)
*Check local listings
Are you on Twitter? You can follow Bob here, and get all your HBT updates here.