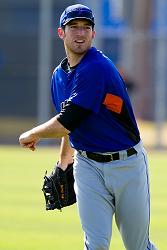 We suspected as much yesterday, but word on the street is that in light of Mike Jacobs being designated for assignment, Mets' first base prospect Ike Davis will be called up this week.
Are they rushing Davis? Doesn't seem like it. He only a handful of at bats under his belt, but so far in AAA he's hit .364 with two homers and a couple of doubles, this after a spring training where he never seemed overmatched by anyone. Compare that to the utter dearth of production the Mets have had at first from Jacobs and Fernando Tatis and you have to figure that there's way more risk in not calling him up than calling him up, at least from the team's perspective. And the guy's 23, so it's not like he's a kid or something.
Davis is not strong against lefties, so figure that Tatis will still get some hacks with a southpaw on the mound, but make no mistake: Davis is the Mets' future, and the future is now.