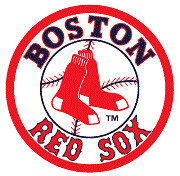 As I type this the Red Sox are down 8-2 to the Rays, and are about to lose their fifth straight game and their sixth out of seven. In ATH this morning I wrote that we'd see a bunch of "what's wrong with the Red Sox" articles today, but I didn't see any. With this fresh debacle to the Rays, however, I'm sure we'll see them tomorrow.
Ah, screw it. Let's write one of our own!  So what is wrong with the Red Sox?
Cold bats: As I type this the Rays game is still happening so it may get worse or may get better, but currently they're 1 for 30-something with runners in scoring position (that one came courtesy of a Bill Hall single a few minutes ago). They've scored nine runs in the past five games.  Dustin Pedroia is hitting so far this season. Youkilis is doing OK too. Everyone else is snoozing. At least one of the snoozers — David Ortiz — may never wake up.
Health: Two-thirds of the outfield is out, Cameron with kidney stones and Ellsbury with his bruised ribs. This has contributed to the cold bats, of course, as well as some recently shaky defense. When those other "what's wrong" articles come tomorrow morning you just watch: they're going to say that the whole run prevention/defense approach is a failure. They won't acknowledge that it's hard to play good defense when two of your best defensive players are on the shelf.
The Competition: Like I said this morning, part of the reason the Red Sox have looked so bad over the last week is because their competition has been so good. The Rays don't look like world beaters simply because they've been playing the Sox. They're really, really good in their own right (I picked them second this year). Same goes for the Twins, who could run away with the AL Central if they keep doing what they've been doing. Getting beat by good teams doesn't mean you're fatally-flawed. It just means you're not as good as the other guys.
But you know what? We can sit here and talk about what specifically ails the Sox all afternoon, but ultimately it may not matter. As soon as this game ends the Sox will be six games back of the Rays and 5.5 back of the Yankees. That's an awful big hole for this early in the season in a division like the AL East.
So can what's wrong with the Red Sox be fixed? I don't know, but it may already be a pretty irrelevant question.