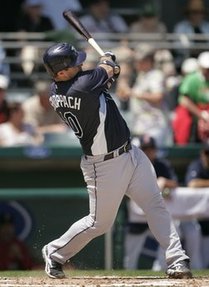 Marc Topkin of the St. Petersburg Times reports that catcher Kelly Shoppach will miss at least four to six weeks after undergoing arthroscopic surgery on his right knee on Monday.
Shoppach suffered the injury while trying to block Curtis Granderson from home plate during last Saturday's game against the Yankees. He was placed on the disabled list last week with what was described as a "sprained right knee," however a report by Roger Mooney of the Tampa Tribune this weekend indicated that pain and swelling had yet to subside and that surgery was a possibility.
Dioner Navarro should get the bulk of starts in Shoppach's absence and that's not a good thing. He was a non-tender candidate this past winter after batting just .218/.261/.322 in '09 and after taking yet another 0-fer against the Red Sox on Monday, he is batting .162 with two RBI over his first 37 at-bats last season.
With results like this, it wouldn't hurt for Joe Maddon to roll the dice by giving 26-year-old rookie John Jaso some regular at-bats against right-handers.