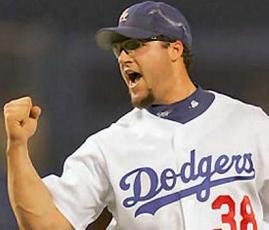 Given his release from the Dodgers even though he accepted a minor league assignment it's no surprise that Eric Gagne has decided to retire.
For about three years there — 2002 to 2004 — Gagne was the best closer in baseball, going 152 for 158 in save opportunities, including a perfect 55 for 55 in 2003. He won the Cy Young Award because of that.  Elbow surgery came in 2005 and back surgery in 2006, and that was more or less that for the guy as an elite player. Since leaving the Dodgers after the 2006 season he bounced from Texas to Boston to Milwaukee to the Can-Am League, never able to recover top form.
Gagne was named as a Kirk Radomski customer in the Mitchell Report. He spoke about his PED use to some extent with the Los Angeles Times last year, voicing remorse but declining to go into details because he didn't want to implicate others.  His PED use also implicates teams to some degree, as the Mitchell Report noted that the Red Sox had scouted Gagne at one point, writing "steroids is the issue."
And it remains the issue with Gagne insofar as career assessment is concerned. His best years were all about power, all came prior to the advent of steroids testing and ended at basically the same time. Yes, injuries killed him, but his inability to take whatever it was he was taking back in the day likely didn't help matters.
I enjoyed watching Gagne shut things down during his brief but dominant
prime, but that was a different time in baseball history, both temporally and philosophically speaking.