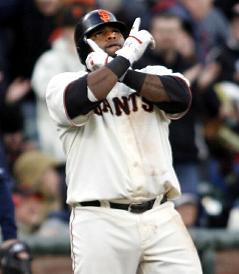 This happened back on April 9th, but it's just now coming to light. I'm assuming that, like all major news stories, it was held up out of an abundance of caution so that the critical details could be verified:
In the bottom of the 12th inning Friday, with Eli Whiteside at the
plate and Sandoval dancing off 3rd base with the possible winning run,
it hit me. Panda's athletic cup.In the head.

In 25 years of photographing baseball, that was the first, and
please, last time that's ever happened.
That's the account from Karl Mondon, a photographer from the Bay Area News Group, who had been sitting next to the Giants' dugout when Sandoval reached into his trousers, pulled out his cup — which had been bugging him — and tossed it towards the dugout.
Which is a total disgrace. Major League Baseball has been perfectly clear on this point: in order to foster a fun and memorable atmosphere for the fans, players should toss their athletic cups into the seats as souvenirs.
The Giants are not hurting for money. They could afford to get Sandoval a new cup. Those kids sitting alongside the third base line, however, were deprived of what would have almost certainly been a lasting memory.