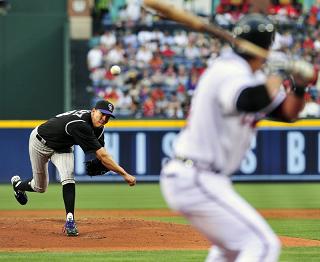 Matthew wrote about it first last night, but I just got done watching the replay of the Ubaldo Jiminez no-hitter, and I have to say that it's been a long time since I've seen someone pitch with that kind of gas in his tank. He struggled a bit early walking people, but it seemed like the reason for it was he just had so much power and velocity and so much action on his fastball that he couldn't fully harness it.
After a couple of innings he tired ever so slightly, settled in at an, um, reasonable 97-98 miles per hour, and he was much better able to control the extra giddy-up. By the time the sixth and seventh innings rolled around the Braves had no better shot at
hitting the ball than you or I would have had.  I loved Jiminez before, but after last night's performance the guy is approaching man-crush territory. I mean, he was no-hitting my team, and all I could think was how awesome it was.
I was also thinking that the Braves get no-hit a lot because watching them flail certainly felt familiar.  Turns out, though, that it's only happened twice since I was converted to their cause in the mid 80s: last night and Randy Johnson's perfect game in 2004 (there were 11 other occasions before the 1980s).  I guess the feeling was just a function of seeing a lot of bad offensive nights against guys throwing serious heat, which is an occupational hazard for Bobby Cox teams.