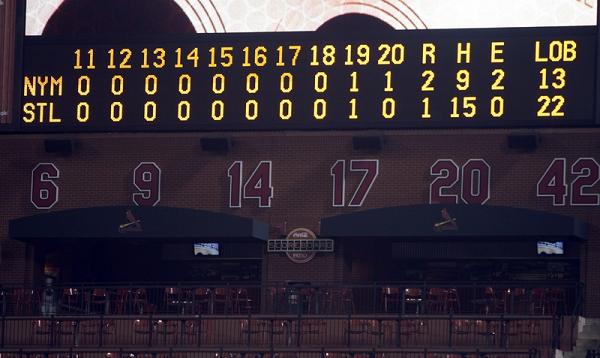 Epic may be too strong a word, because make no mistake about it kids: this was 20 innings of some really, really dumb baseball. But you know what? I'm going to
give it a "so-bad-it's-good" rating. There were so many head scratching "I-can't-believe-what-I-just-saw" moments that, eventually, it reached the point of the sublime.  Let's cover the highlights:
The winning pitcher was a closer. A starter got the save. The losing pitcher was a backup outfielder. While one guy threw a no-hitter in baseball last night, the Mets pitchers actually threw more combined no-hit innings. It was just one of them nights.
The managing here was pretty bad. The worst: in the bottom of the
19th, trailing 1-0, Tony La Russa put on a pair of Bad Idea jeans and
called for a steal — or maybe it was a hit-and-run, but either way it was terrible — with Ryan Ludwick on first base and Albert Freakin'
Pujols at the plate. You know, the Albert Pujols who happens to be the
best hitter in baseball. Ludwick was out, after which Pujols hit a
double which would have easily scored Ludwick, and then Yadier Molina
singled in Pujols. The game could have ended there, but alas it was only
tied, and on it went to the 20th.
Position
players Joe Mather and Felipe Lopez pitched — the first time two
position players have pitched in the same game in 20 years — despite
the fact that Kyle Loshe and Brad Penny probably could have gone an
inning for St. Louis (Lohse did play left field, though). And heck, even if you're going to pitch a position player, why not leave Lopez in there? He actually had better stuff than Mather did.
Jerry Manuel called for a bunt against Mather in the 19th for reasons I
still can't comprehend. And it was with Jose Reyes on first base and a catcher who had played all 19 innings thus far behind the plate and who had to have been totally gassed. You don't take the bat out of Albert Pujols' hands, but it seems like you can try to steal with Luis Castillo at the plate with your best baserunner on first and a guy — Mather — with no pickoff move or velocity on the mound.
That said, the Mets never really even got to Mather, scoring both of their runs off him on sac flies.
K-Rod was the only Mets pitcher in 20 innings to
give up a run, yet he
got the win, which means that the next guy who says that wins are the
mark of a good pitcher is gonna get a talking-to.
Mike Pelfrey pitched
the 20th for the Mets and got the save, which means he now leads the
team in wins and saves.
But you know what? For as bad as some of this game was, and
for all we've said recently about game length, there was a certain
shambling glory to it. A baseball game went 20 innings in seven hours, last night, most of that
time with it being tied 0-0, and multiple astounding things occurred.  I have to say that I loved it.
Best of all: John Maine pitches for the Mets tonight with no bullpen to help him.  Should be fun!