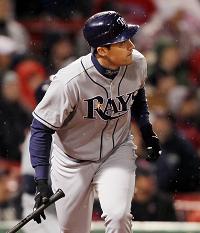 At least temporarily. Yesterday Pat Burrell homered during the completion of the Rays-Red Sox game that was suspended on Friday, and then he had a three-run double in the
scheduled game.  He hadn't had any home runs or RBI entering play yesterday and was below the Mendoza Line. Overall that's five straight wins for the Rays, who are doing nothing to make me sorry for picking them to finish ahead of the Sox this year.
But Burrell's exploits weren't as unexpected as Livan Hernandez's. It may be lost in the noise of a no-hitter and a marathon game, but  Hernandez has started out the season with 16 scoreless innings,
including last night's shutout of the Brewers.  This from a guy who the Nationals didn't really even want to sign this offseason.
Saturday gave us all kinds of unexpected things. Big performances from Pat the Bat and Livan may have been the most unexpected.