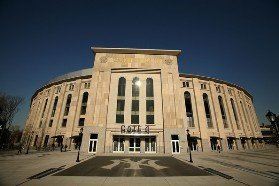 One of the reasons you don't get so hung up on how homer-friendly a ballpark is in its debut year: it might not be so friendly in its next year. That appears to be the case with new Yankee Stadium in the early going. Last year there were 21 homers hit in the first five games at the new yard. This year: 11 in the first five games.
The weather? Maybe. It's been under 60 degrees at game time for three of those first five games this year and was only 62 for a fourth, so maybe it's just a matter of the ball not carrying like it will later.  But it may also be a function of pitchers adjusting to the shorter-than-expected porch in right and pitching accordingly.
Just another reason not to make any pronouncements about a park until it's been played in for a good while.